Hey everyone. I apologize for the delay in getting a post out.  Life has been rather hectic of late.  Truth be told, it may continue on this path and get a bit worse.  I will do my utmost to have a new post every week, yet there may be a delay from time to time.  I appreciate your patience and thank you for returning to WoM.  A more detailed explanation may come later but for now… let's talk N&S!
In my review of the 1975 production of North & South, staring Patrick Stewart and Rosalind Shanks, I worked very hard not to be comparing it to the more recent adaptation released in 2004. While writing my review, however I had a couple of you request that I do a comparison between the two productions.
In attempting to work through a comparison in my mind, I discovered that there was so many differences that it was difficult to know where to start or where I should focus my comparison.  Should I look at the performances or the consistency of storyline.  Or maybe I should do a light covering of both?  Let's just dive in and see where it goes.
Before I begin, let me just thank you all in advance for your patience with me.  It will be no surprise to anyone that my favorite of the two is the later version.  It is also not hard to understand this when you read through my review of the earlier version. I will do my best to be fair to both productions.
When we get down to it, each production has its strengths and weaknesses.  When it comes to the adaptation of the story as Gaskell wrote it, they each took much different approaches to the story and the characters.  So let's start with characters.
The two main characters were portrayed very differently, with our heroine showing the most stark difference.  The earlier production chose to focus on the more meek side of Margaret's character while the newer chose to focus on the independent side and then modernized her.  The production team felt that a modern audience would identify more with Margaret's more independent side.  Were they correct? Actually, I think they were correct.  They were so correct, that general viewers tend to totally miss the more gentle, submissive side of her character.  Because of this, these casual viewers walk away with a skewed view of our heroine. It's entirely possible that we might cover this "choice" in upcoming discussion so I won't dive into that one to deeply today.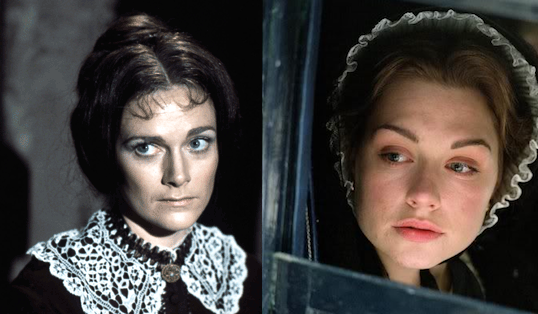 To be honest, it is a balance of these two performances that gives you a more complete and correct image of her character.   What makes Margaret so interesting is the fact that she is both meek and independent at the same time.  All in all, both actresses did attempt to portray this duel elements of her character, yet for me personally, I found Daniela Denby-Ashe's performance to be the most successful, even with the challenge of her being scene as more modern than she was.  If you look closely at DDA's performance, you will also see the meek and submissive side there as well.  DDA chose to portray this element much as it comes to us in the book. It comes in the way she gently loves and cares for her parents.  How she patiently sits with Bessie, etc.  Whether viewers see the more meek and submissive side of her character, does not detract from the fact that DDA did portray it.  Take time to think about this yourself and tell me what you think?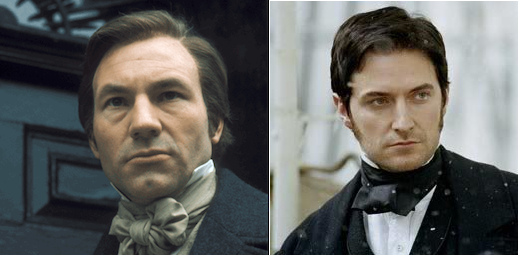 With our hero… well I don't think any of you will be surprised which performance I prefer.  Yet with that being said, I do believe the Patrick Stewart portrayed our hero to the best of his ability. Where the newer production fails, in portraying Thornton with a short temper, this production also fails.  If you read my review of the 1975 production, you know many of my issues with Mr. Stewart's performance, so let me cover what I feel works with Richard Armitage's performance.  One of the main things is, despite the rather shocking opening scene with Thornton, RA is able to bring Thornton back around to a more favorable standing.  RA is able to deliver Thorntons intensity of character with dialogue and without. After first reading the book, I felt that RA become Thornton.. rather than just portraying him.  The book speaks of a complex man who is admired, achieving a high level of respect by those in his own social class and outside of it. This was not something that he demanded with a booming voice, it was instead commanded and therefore earned by a keen intellect and quiet authority. RA portrayed this element in Thornton with his quiet soft tones, thoughtful speeches and his earnest eyes.  Let me say again, he embodied Thornton.
If you read my review, you will know that I struggled with many of the performances by the actors in the earlier production.  With the exception of Higgins, I felt most of the characters were misrepresented.  The later cast brought the complexity of the characters to life.. in full living color (as the saying goes).
One of the strengths of the earlier production is that it did choose to show, in the form of dialogue, many of the background elements to the story.  Why Mr. Hale leaves the church is a great example.  The newer production chose to portray many of these elements in facial expressions or body language and for some of you, the use of dialogue was a much more effective way to present the story. This earlier production was able to deliver, a bit more plainly, what Gaskell explained in narration in the book, making it a powerful element to retelling the story to those who have not read the book or have only read it a few times.
That brings us to the story line as portrayed in both productions.  In truth, to look at the scenes portrayed, some could say that the two together brings a more complete picture of the story.  In a round about way, this is true.  The earlier production included scenes that were sadly missing from the later version.  The most obvious would be of Thornton carrying Margaret in after the riot.  I would give anything to see this played out by RA and DDA, yet it is not to be.  It was enjoyable to see this scene played out… yet I would have preferred it as Gaskell wrote it.  Not in the edited form that we see on the screen.
Many have issues with the changes made to the 2004 production.  The addition of the Expedition and then the large change to the final scene.  Though we will speak more in-depth of why the Expedition scene was added to the film at a later time, let me just say that I personally did not mind this addition because of what it accomplished in the storyline.  I wish the production team had chosen to portray this element as Gaskell wrote it, yet I do appreciate them making the effort.  Without giving it away.. do any of you know why this scene was added?
Then of course that brings us to the ending scene.  In the 1975 version, the end is situated in a London drawing room, just as Gaskell did in the book.  It also includes many direct lines from Gaskell's ending scene.  Yet this scene lacked in two very large elements.  First, it chose to change the whole premise of why Thornton was in London and why he had come to see Margaret.  In the book, he comes to London to "give up his lease", Henry is so taken with Thornton that he asks him to dinner.  It is at this dinner that Margaret and Thornton see each other again, after a year of separation.  It is after this dinner party that Margaret decides, with purpose and drive, to give her monetary inheritance to Thornton.  This, of course, brings him to the Shaw drawing room the following day which sets the scene for the amazingly romantic ending, as found in the book. Secondly, as I said, many of the lines are used in the earlier production, the incredible power found in this scene was sadly lacking.
With the later production, as we all know, the team decided to change the venue of the final scene and place it on a train platform.  Margaret enters this changed venue after rushing to Milton to present her offer to Thornton.  After not finding him there, she is returning, disappointed, to London.  Thornton comes to this venue having just returned from a trip to Helstone, "to see the place where Margaret grew to be who she is."  Though the venue is dramatically changed and many of the lines are missing, this production succeeded in delivering the power and passion that is found in this ending scene.  –Not all feel as I do.  Some are deeply offended by the change, while others feel it still lacks the intensity found in the book. No matter where you fall on this issue, truly you can not deny that the kiss is one of the most amazing on-screen kisses to date.  I have found few to come close myself!
In conclusion, I found this last element to be true of the entire productions when comparing them side by side.  Neither are perfect though I believe the more recent production by far shines brighter.  Indeed, I wish the 2004 production had not made some of the changes it did or had chosen to include more scenes from the book, yet, I feel the 1975 production failed in portraying the passion and complexity of the characters and storyline.  The 2004 version, even with all its challenges and changes, succeeded in delivering on both these accounts.  The characters were deep and complex.  The scenes were dramatic and powerful.  And the overall story was rich with passion.
Still, I sincerely encourage all fans to view both productions and make their own conclusions.  There is of course room to love both productions.  There are enough differences that I do see the possibility of that!  Watch.. and enjoy!  But also be sure to pick up that book again, from time to time and get the story in all its amazing wonder!
Again I thank you all for your patience as I'm very late in delivering this discussion.  I would love to hear all your comparisons between the two productions.  Or if you have not seen the 1975 version yet tell us what you love or dislike about the 2004 version.  Or maybe you have seen the earlier version and you love it, give me your own comparison!



________________________________________________________________________________________
Be sure and check out these great deals!
73 Comments